Chandelure Collection
Chandelure has to be my favorite of the ghostly candle line. I'm not sure why, I just really like it, maybe because I like intricate lamps? xD;; Everything about it is just so appealing to me; its design, name [both english and japanese], regular colors, shiny colors...it's just really awesome to me. I probably like it best because there is likely to be few and far between merchandise for it...which means it'll be rough. =;v;=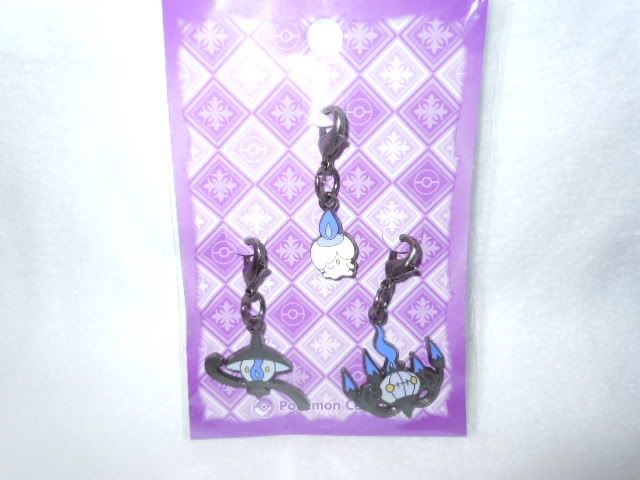 CHANDELURE LINE CHARMS This is the first merch that chandelure has gotten officially besides tcg XD I really like how these charms are a dark gunmetal kinda look for halloween =0w0= They're really pretty and I'm so glad I got them =;w;=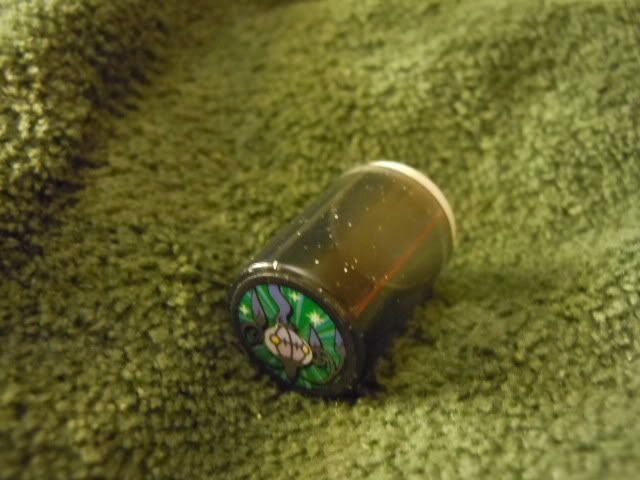 CHANDELURE STAMP CHANDELURE STAMP! Chandelure's first official merchandise aside from the kids figure, can badge and charm =0w0= How cool is it that my fav color is in the background? This stamp was meant for me! *shot* xD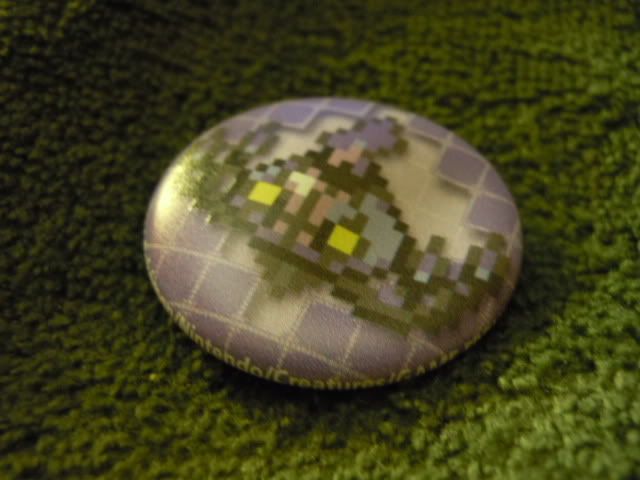 CHANDELURE SPRITE BADGE Chandelure can badge :D Unfortunately, the one I got from Gin got a dent in it D': I presume it was because the mail service was just a bit too rough, but despite that, it's still pretty cool =0w0=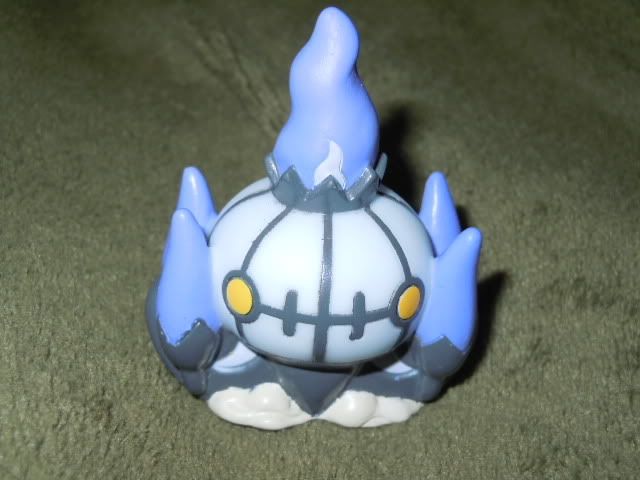 CHANDELURE KIDS FIGURE Chandelure Kids Figure! First official figure is win >3 I actually have two because a friend of mine had gotten me one for christmas after I already ordered it =;v;= I might paint the one I bought shiny colors....but I don't know yet.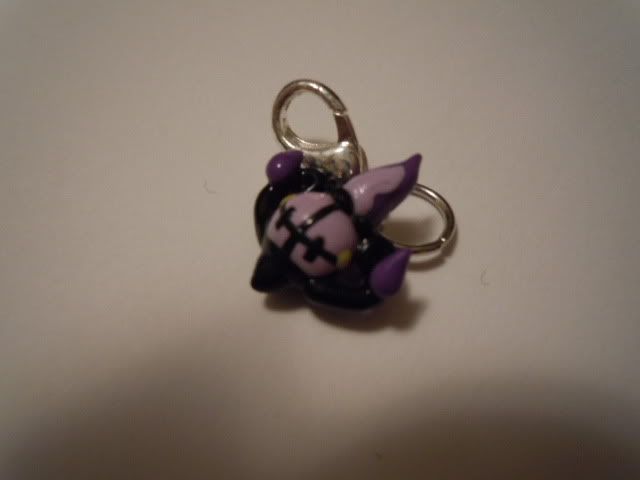 CUSTOM CHANDELURE CLAY CHARM I got this charm in an awesome art trade made with foureyedalien [Jade], and it was one of five charms from the trade. This charm is so cute and so tiny, it's like the size of a penny so it's astounding that Jade is so amazing to get as much detail as she does on these cute little things! =>w<=

CUSTOM CHANDELURE SWING CHARM This charm was made by reiila and it's awesome because chandelure is my favorite! I was both excited and relieved to get this charm because one, it's to die for with how cute it is and two, at the time one of my packages had been sent back by my newly confused neighbor at my old apartment, so I was worried the charms might be sent back too. They arrived safely and it made me feel tons better to have them displayed on their very own shelf in my new home.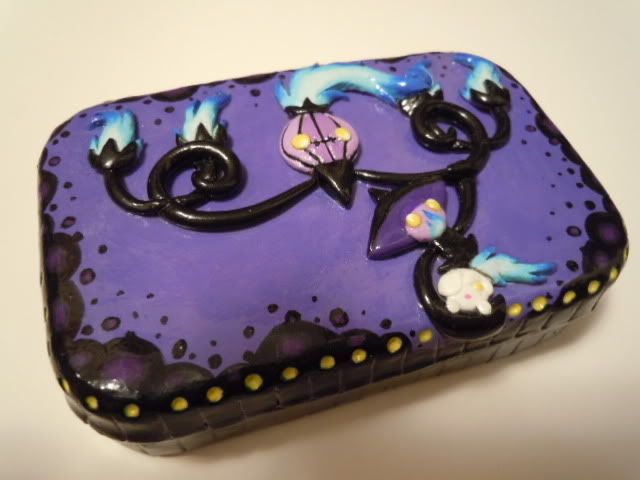 CUSTOM CHANDELURE LINE TIN I won this tin in a custom slot auction by wilowispz. They auctioned off customized tin slots and I managed to win one =>w<= They asked me how I wanted my tin done and everything; the end result was just so amazing and gorgeous! I love this tin and it's my absolute favorite so far!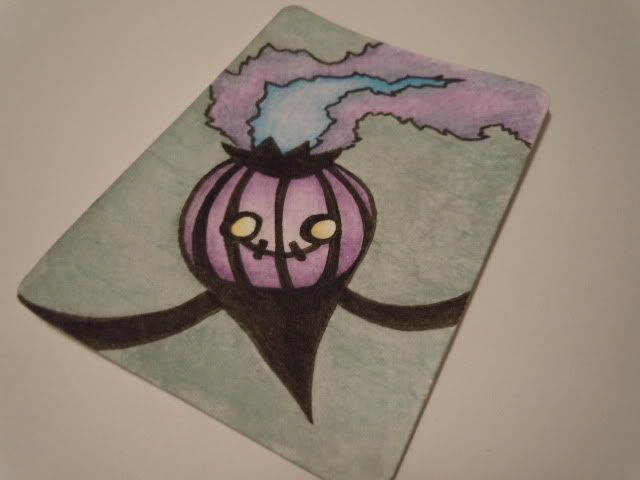 CUSTOM CHANDELURE FLAT With my tin, I got this little custom flat. Wilowwispz included it as an extra because she's super awesome! It was made with watercolor pencils and it turned out so pretty! =>w<= <33~~

CUSTOM SHINY CHANDELURE FIGURE This was made by Jirachi-chan and was part of an art trade for a shiny yamask. This figure was half of the trade for the plush I made. It's really cute and I love how it turned out =>w<=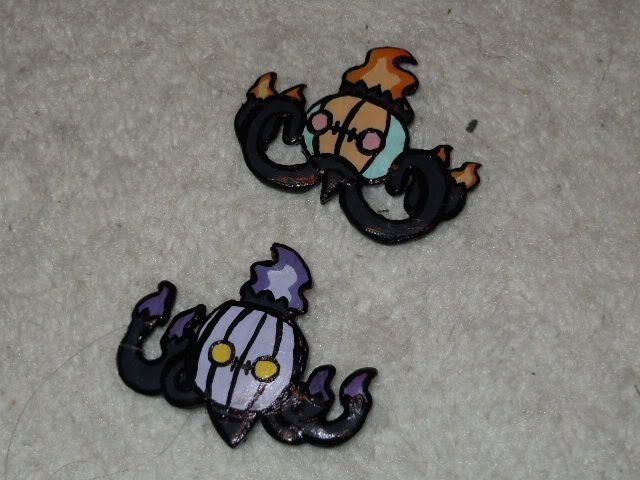 CUSTOM CHANDELURE POKEDOLL MAGNETS These were made by kephisos and they turned out so cute =>w<= I think the shiny chandelure is my favorite though because I made the art for that one xD

CUSTOM SHINY CHANDELURE SWING CHARM Another amazing custom charm by reiila! I really love her style and you'll probably see more from her in my collections xD