Giratina Collection
Plain and simple, it's the pokedolls. I LOVE the giratina pokedolls, but I mostly collect the origin form of giratina. It's my favorite of the two, but I'll take anything of giratina if it's a pokedoll xD;; I'm not sure why I like the origin form better, but there's just something that screams 'epic beast' about it. =0w0=

GIRATINA ORIGIN FORM POKEDOLL [JP] I got this one from y!j because it had the official pokedoll art still attached and the doll itself looked like it was in really good condition. I named her Siv after an awesome queen from a book series I recently read.

GIRATINA ALTERED FORM POKEDOLL [USA] I got this pokedoll in another community pokedoll run, but I'm not sure which one it was =;v;= Either way, I was really excited to see that the states started to put the pokedoll art on their tags just like japan! :DDD I named this one Ziv because I had a bunch of names picked out for my giratina plush and whoever got here first got that name; that's how Ziv got his name lol :p

GIRATINA ALTERED FORM POKEDOLL [JP] I got this pokedoll because I just wanted one from japan to match Ziv. It was okay that this one didn't have pokedoll art because Ziv has his so my only dilema was a name for this one. For lack of creativity, I named her Gimp because her wing came slightly undone. I do hope to rememdy that soon in the future though :)

GIRATINA JAKKS PLUSH Silas came from Canada :D He's pretty awesome except for the fact that I totally cut through his fabric when I opened the package he came in =;v;= SORRY SILAS! Maybe I can fix that? xD;;; I'm such an awful giratina owner lol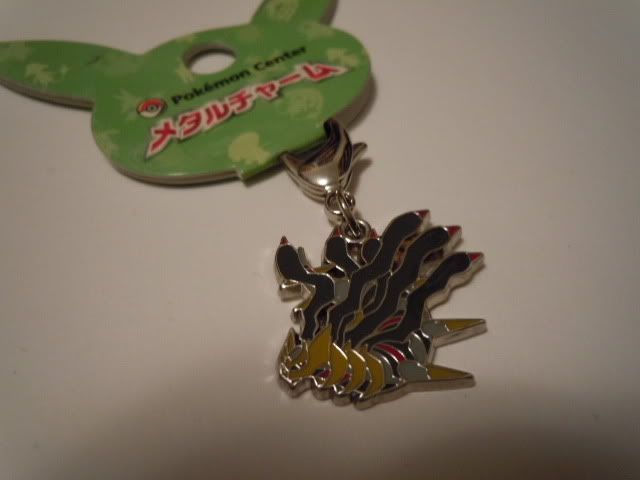 GIRATINA ORIGIN FORM POKEMON CENTER CHARM I got this from hardrock pokemon because I was a ninny and missed it on y!j lol but have I told you all how much of a charm whore I am? lol I bet I have hahaha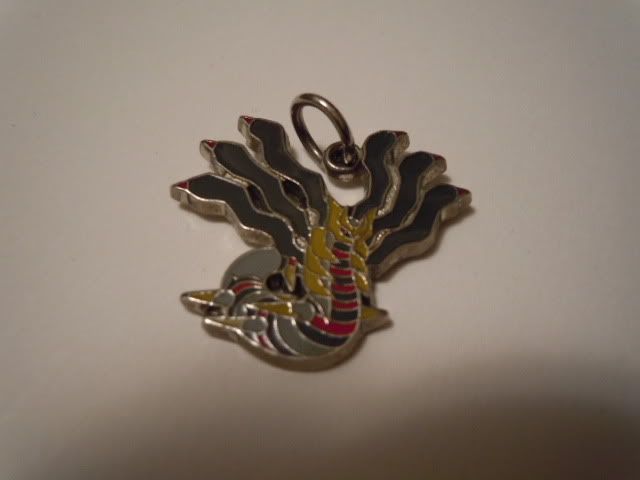 GIRATINA ORIGIN FORM POKEMON CENTER CHARM HALLOWEEN This charm came from y!j in a lot of stuff and I wasn't sure which charm it was because the clamp is missing so it was hard for me to identify as I'm new to collecting giratina. So it was awesome when some of my friends who also collect giratina were able to quickly identify this charm as the special promotion halloween pokemon center charm :D yay! I'll also be repairing this one hahaha [It seems like I'm always getting the defective giratina merch lol but that's okay, because I love them all just the same ;D]

GIRATINA ORIGIN/ALTERED FORM CAN BADGES These were in the same lot as the halloween pokemon center charm, so I thought why not? What kind of collector would I be if I tossed off free merch I already paid for? lol So here they are on my website :p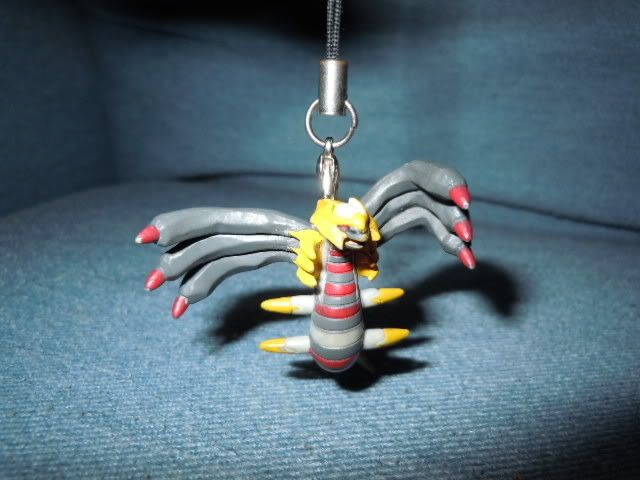 GIRATINA POKEDEX KEYCHAIN This was the first giratina merch I had. It stays perpetually on my keys because as you'll notice this piece of giratina merch is ALSO busted in that it's missing it's little pokedex extension lol Oh well, this giratina is good for more than showing off on my keys, he also ocassionally helps me identify my drink because no one else in my friends/family is a pokemon collector. HAH! Yeah, this method would almost certainly not work at like a con or community meetup lol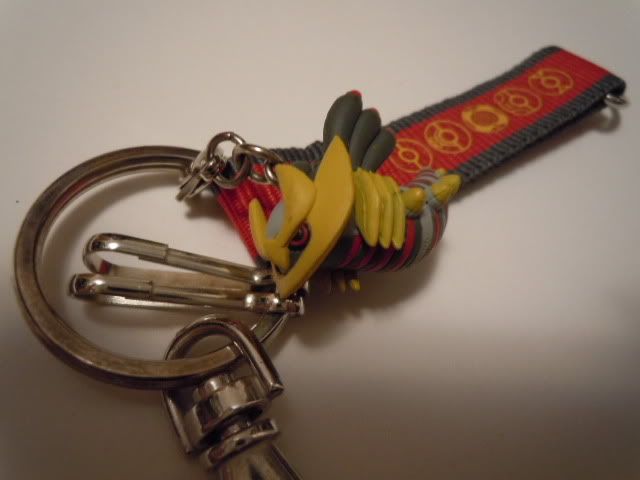 GIRATINA ORIGIN FORM POKEDOLL STRAP Came from y!j and let me tell you how cute it is! I love these 3-D pokedoll charms, I wish more pokedolls had gotten them! *cough, cough*eevees!*cough, cough*

GIRATINA ALTERED FORM POKEDOLL STRAP Also came from y!j and from the same seller as the other pokedoll charm. I don't like altered form as much, but I really love its pokedoll =;v;=

GIRATINA ORIGIN FORM KESHIPOKE This little guy on the left came from hardrock pokemon. He's so tiny and adorable but it was a task to get a good picture of him lol I also got a second kesipoke from a y!j lot, [right], and was playing around with them the other day and realized this. AWWWW, THEY MAKE A HEART! Giratina wuvs for all! <33~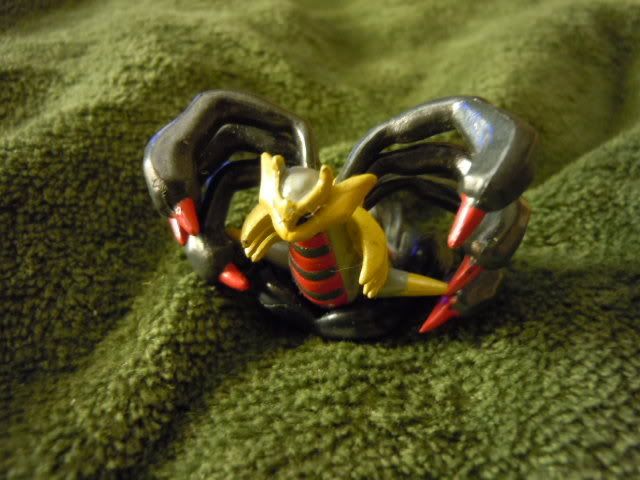 GIRATINA BATTLE FIGURE Now I don't know a whole lot about this figure, I just saw it on AmberTDD's collection site and said I want that one! xD I popped up in an auction and I was really glad I snagged it! It's so detailed and full of awesome!

GIRATINA CLIPPING FIGURE Without the base unfortunately xD but it's still a really cool figure! I really like this one how it's curled up and still looking to make a vicious attack!

GIRATINA CHOU GETS These aren't my fav chous, but I hope to obtain them in the future ;D I really like the bases and these poses though =>w<=

GIRATINA ORIGIN POKEDOLL MOVIE CHARM omg. the amazing phoenixfoxx offered me this! I was so excited and she even sent me a christmas card with it =;w;= yay! It's so tiny and amazing and adorbles and I love it =;v;=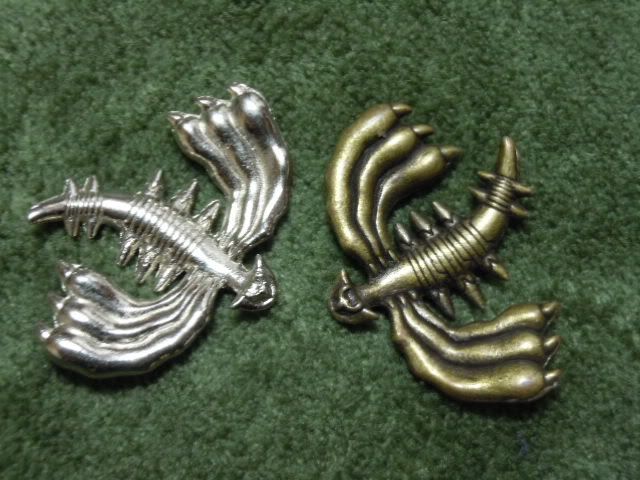 GIRATINA METAL FIGURES metal giratinas!!!!!!!!!!!!!!!!!!! they're so tiny and precious and I'm so glad I was able to get some of them =;w;= they came from the GA me and jadekitty777 ran.

GIRATINA ORIGIN FORM POKEDOLL [USA] I got this pokedoll in one of the community's pokedoll runs by aisugambler. They were awesome with communication and I received my cute little doll safe and sound in the mail. I name him Atticus because I like that name and he's easy to pick out amongst my giratina pokedolls because he has the most wear :p Atticus went missing in the mail. I'd sent him to AmberTDD for repairs and he was supposed to come back with my custom shiny chandelure. Problem is that my post office sucks and the package either got stolen or delivered somewhere else :T
R.I.P. Atticus my US Origin Giratina Pokedoll <3~